At last it is Friday! And all over the U.K. it has been snowing for the last two days. Everywhere that is ... except here in Torbay. We have experienced the gale force, arctic winds and it is bitterly cold out there.
My big boy is not interested to poke his nose out the door let alone play in the snow like other dogs. But then Rossi is a bit of a snob. You see Rossi is a South African dog relocated to the U.K. So this boy has been living in the lovely sunshine and there is no way he loves the snow.
Last year when it snowed here in our Bay, Rossi was not impressed that he could not find a patch of grass to do his business on. He had me in stitches with laughter, especially when the wind blew him over. Needless to say, Rossi was not impressed with the crazy weather and his crazy laughing mom.
I would love to play with him in the snow, but my boy will have nothing off that.
The temptation to just snuggle under the covers this morning and not get up, that is only for those who have nothing to do. I had to go shopping.
I realised last night that our cupboards and freezer is a bit bare. Normally we will do the shopping on Saturdays. But considering the bad weather, I thought it wise to stock up with some food and essentials.
Expecting to find lots of shoppers and maybe fighting for the last bread, the store was not nearly that busy and the shelves where still packed. Not like last year when bread and milk flew off the shelves and you lost out if you arrived too late.
So now we are ready to hibernate for the weekend with plenty to keep our bellies full. Although, I just hope I would be able to hibernate this weekend, snuggling under blankets, munching something tasty and watching a movie or two.
I have lots of work to do on the computer. For one finishing all the changes to my website. The monthly accounting for the last 10 months have been done, FINALLY.
This weather is not conducive to photoshoots. So thankfully I have the time to do all the admin stuff and I feel like this after the last two weeks of being on the computer every day all day.
Rossi will be snuggling under the blankets for sure. Lazy spoiled Mommy's Boy. He won't be happy to miss out on his walks though.
I hope you keep well and warm this weekend. If you are taking your pooch for a walk in this weather, I apploud you. You are braver than I am. I look forward to snuggle under a blanket or two.
Of course this weather lends itself to cook a lovely thick soup or stew. That's what I will be doing tomorrow; cooking a delicious stew.
Tonight on the menu is a hot roasted chicken and vegetable soup with some cheese bread on the side.
And if you take the dog out for the walk, I sure hope you don't end up looking like this: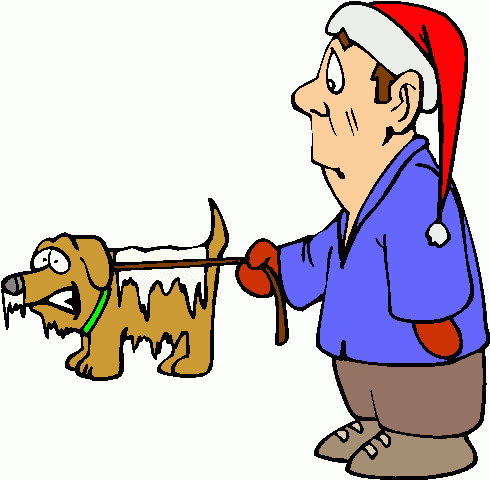 Keep warm and take care in the snow and on the icy roads this weekend